Hey there RSC family!
The draft order has been set (thanks to Bax and the almighty marbles), the pick trading is finalized. Tonight we get to watch a spreadsheet over on Twitch for a few hours to see who gets drafted to which team.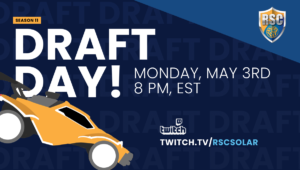 As a reminder, we move very quick around here, so here's the breakdown of what to expect these first couple weeks:
Monday, May 3 – Draft Day!
Get some new teammates and get grinding!
Wednesday, May 5 – Preseason Match Day 1
Most likely, everyone on the team will be playing in a few of these matches. GMs will already need to be making their first round of cuts based on only this data.
Sunday, May 9 – First round of cuts due.
Teams must be trimmed down to 5 players each
Monday, May 10 – Preseason Match Day 2
Tuesday, May 11 – Second round of cuts
Teams must be trimmed down to 4 players each
Wednesday, May 12 – Preseason Match Day 3
This is the final look at how the chemistry is vibing before the matches start to count.
Good luck in the draft, everyone! Strap in, it's time to gooooo.
Please don't forget to follow RSC on Twitch, Twitch#2, Twitter, Youtube, and Instagram