Hey there RSC family!
It's time to dial up another exciting RSC Season. If you're a returning player, you should already have received a DM regarding your continuation with the League. If you're new or returning, join the Discord and sign up now, we're excited to have you on board.
First combines begin Monday April 12. Signups will be closing April 16 and keep an eye on your DMs for the April 19 Inactivity DM. If you don't respond, you will be inactivated from being Draft Eligible.
If you are in Discord and need to know the upcoming dates head over to #Bot-Input and enter the command ?dates
Next order of business, we have the Season X Champions who have already received their Champion's Cups and will forever be enshrined over in the Hall Of Fame.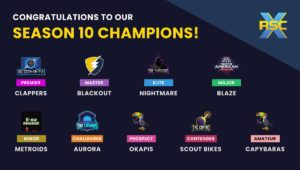 Also being enshrined in the Hall of Fame are Treefrog and their franchise The Shadows who sent 6 of their 8 teams to playoffs, with their Elite team Nightmare bringing home a cup. They have been voted in as GM and Franchise of the Season. Congrats on a season well executed!
Admin elections have been tabulated and Juggernaut, Treefrog and Limon will be retaining their positions as admins for the upcoming season.
Let's get hyped, squad. It's go time on a fresh season.
Please don't forget to follow RSC on Twitch, Twitch#2, Twitter, Youtube, and Instagram